Chou Jigen Taisen Neptune vs Sega Hard Girls - Yume no Gattai Special (超次元大戦 ネプテューヌVSセガハードガールズ 夢の合体スペシャル, Cho Jigen Taisen Neptune VS Sega Hard Girls Yume no Gattai Special, lit. Super Dimension War Neptunia VS Sega Hard Girls Dream of Coalescence Special) is a video game for the PlayStation Vita, which acts as a crossover between the Hyperdimension Neptunia and SeHa Girls franchises. It was developed by Compile Heart and Felistella. It will be published in the West by Idea Factory International as Superdimension Neptune Vs. Sega Hard Girls in 2016[1].
Storyline
Edit
Characters
Edit
Hyperdimension Neptunia
Edit
SeHa Girls
Edit
Single player
Edit
Reception
Edit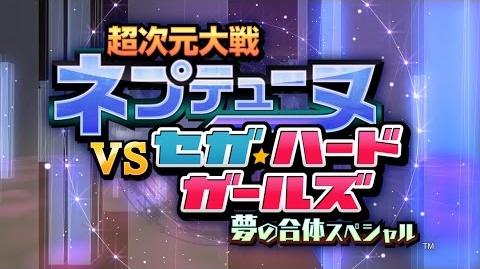 Key visuals
Edit
Character Renders
Edit
Screenshots
Edit
External links
Edit
References
Edit
Ad blocker interference detected!
Wikia is a free-to-use site that makes money from advertising. We have a modified experience for viewers using ad blockers

Wikia is not accessible if you've made further modifications. Remove the custom ad blocker rule(s) and the page will load as expected.