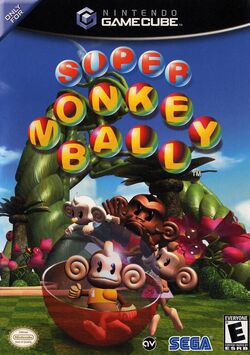 Super Monkey Ball is the second game of the Super Monkey Ball series with the first being Monkey Ball. It was developed by Amusement Vision and published by Sega. It was released for the Nintendo Gamecube in 2001 in Japan and U.S., and 2002 in Europe. There is the logo of Dole Food Corporation on the many Bananas in the game, on two of the stages (Beginner Floor 8 & Master Floor 5), and on many objects that are not part of the levels.
The difference between Monkey Ball and Super Monkey Ball is that Monkey Ball is an arcade game with only the Main Game, but Super Monkey Ball has the Main Game, three Party Games, and three unlockable Mini Games.
Ad blocker interference detected!
Wikia is a free-to-use site that makes money from advertising. We have a modified experience for viewers using ad blockers

Wikia is not accessible if you've made further modifications. Remove the custom ad blocker rule(s) and the page will load as expected.