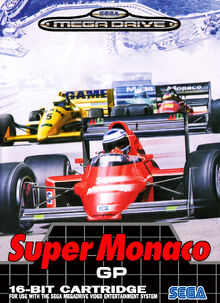 Super Monaco GP is an arcade-style Formula One racing sim released in arcades and multiple platforms by Sega Corporation in 1989. It is a sequel to the arcade game Monaco GP.
The arcade game consists mostly of one race: the Grand Prix of Monaco (though represented by a totally different track, albeit with the same features of the real-life Circuit de Monaco). The player simply chooses a transmission type, qualifies, and race. The player must qualify in under 45 seconds in the shortened track in order to actually race. If he fails, the game ends (though, in the home versions, even if the player fails to qualify, he still starts off the race at the last position). When in the race itself, there is also a position limit, which starts off on 20th (15th in the home versions) and decreases as the player bypasses checkpoints along the track, ultimately stopping on 3rd. If the player falls behind the indicated position and does not manage to recover fast enough, a game over happens.
The Sega Mega Drive/Genesis version of Super Monaco GP adds a World Championship mode. In the World Championship mode, the goal is to win a season of races, and then go on to defend the title. The circuits are modeled on the ones used in the 1989 Formula One season, with background scenery similar to the real-world circuit venues, though without the wealth of details the Arcade version had.
The Genesis version was highly acclaimed, garnering an at-the-time-unprecedented 10-10-9-9 rating from Electronic Gaming Monthly's Review Crew and a 93% from Mean Machines.
Sega was sued by Philip Morris over the arcade game among others because the unauthorized presence of the Marlboro trademark in the game, where it appeared on the real life tracks, was seen as compromising their policy against advertising to children and young people.
Ad blocker interference detected!
Wikia is a free-to-use site that makes money from advertising. We have a modified experience for viewers using ad blockers

Wikia is not accessible if you've made further modifications. Remove the custom ad blocker rule(s) and the page will load as expected.