Super Hang-On
(ス ー パ ー ハ ン グ オ ン?) Is a arcade simulator, released in 1987 by SEGA. It's the sequel to the Hang-On video game, the central theme of which is motorcycle racing.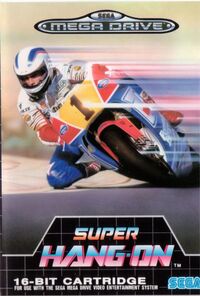 In 1989 the title was also released for other platforms, including Sega Mega Drive, Commodore Amiga, Atari ST, Mac OS, ZX Spectrum, Amstrad CPC and Commodore 64. A version for Virtual Console was also released on September 14, 2010 in Japan and May 3, 2012 in the rest of the world.
Ad blocker interference detected!
Wikia is a free-to-use site that makes money from advertising. We have a modified experience for viewers using ad blockers

Wikia is not accessible if you've made further modifications. Remove the custom ad blocker rule(s) and the page will load as expected.