The Sega Saturn is a 32-bit fifth generation based console, that was originally released on Nov 22nd, 1994 in Japan. However this console would eventually make it's ways overseas, with it being released on July 8th, 1995 in Europe, and May 11th, 1995 in North America. Sadly the system was discontinued in 1998, in both North America and Europe and a couple of years later in Japan in 2000.
The console reportedly sold 9.5 million units internationally. Despite the fact that it had marked great popularity in Japan, the Saturn had not succeeded similar market share in North America/Europe against it's primary rival Sony's PlayStation and then eventually the Nintendo 64.
Only 240 Saturn games saw release in Europe, and only 245 in the USA.
Sega ceased support for the Saturn in 2000 as support and development shifted completely to the Dreamcast.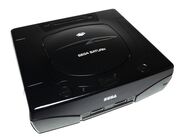 Game Titles re-appearing on
Edit
External links
Edit
Sega Saturn UK - The Worldwide Online Community and Information Point For All Things Sega Saturn.
Satakore.com - The Ultimate Sega Saturn Source with Complete Database of Every Games and Demos Released for the system and where you can Manage Your Own Collection
Ad blocker interference detected!
Wikia is a free-to-use site that makes money from advertising. We have a modified experience for viewers using ad blockers

Wikia is not accessible if you've made further modifications. Remove the custom ad blocker rule(s) and the page will load as expected.