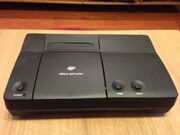 jump to: navigation, search
Sega Pluto is an unreleased variant of the Sega Saturn. It was revealed by a former Sega employee on April 17th, 2013 on the Assembler Games forums, not much is known about the console. The Pluto was a revised version of the Saturn with an onboard Netlink modem, along with a new chassis and bodywork. The system weighs in at a rather hefty 2.8kg and has two controller ports, a top-loading disc drive with a flip-top lid, and a cartridge slot. It was designed prior to the announcement of the Dreamcast. Only two functional prototypes, along with several resin mock-ups that were showcased at E3 were produced. In early 2015, a surviving E3 mock-up of the Pluto had turned up on eBay. The auction has since ended on February 23rd, 2015. Up until 2013, this image was thought to be the Blackbelt, one of the two console designs that were considered to become the Dreamcast, but in reality, it was actually an artist's impression of the Pluto.
Ad blocker interference detected!
Wikia is a free-to-use site that makes money from advertising. We have a modified experience for viewers using ad blockers

Wikia is not accessible if you've made further modifications. Remove the custom ad blocker rule(s) and the page will load as expected.