The
Sega Pico
was a blue and yellow handheld with a stylus with a touch screen made by Sega Toys. The system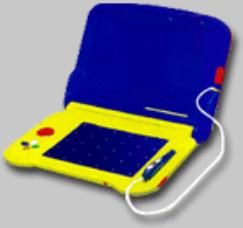 is no longer made however its games are still created. It has many games like Sonic the Hedeghog's Gameworld and Tails and the Music Maker. This system was the only that Nintendo published games and trademarks were put on a Sega related product. 20 Games have been released for this product in the USA. The toy was meant for kids from 2-8 and it's slogan is "the computer that thinks it's a toy." Its successor Advanced Pico Beena was released exclusivity in Japan in 2005.
Ad blocker interference detected!
Wikia is a free-to-use site that makes money from advertising. We have a modified experience for viewers using ad blockers

Wikia is not accessible if you've made further modifications. Remove the custom ad blocker rule(s) and the page will load as expected.