21 August 2008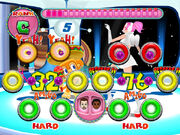 Another cameo character, this time
Ulala
from
Space Channel 5
stars in a
Space Channel
themed stage in
Samba de Amigo
for the Wii. The complete tracklist has been revealed for the game as well:
Returning from the Dreamcast title:
Edit
Salome – Chayanne
Samba de Janeiro – Bellini
Mambo Beat – Perez Prado
Bamboleo – Gipsy Kings
El Ritmo Tropical – Dixie's Gang
Tequila – Chuck Rio
Samba de Amigo – Bellini
Sway – Gimbel and Ruiz
El Mambo – Solemar
Wii-Exclusive Songs:
Edit
Baila Me – Gipsy Kings
Mambo No. 8 – Perez Prado
Arriba Allez – Bellini
Magalenha – Bellini and Mondonca Do Rio
Ran Kan Ran – Tito Puento
Como Ves – Ozomatli
Mexican Flyer – Ken Woodman
Borriquito – Charo
Un Aguardiente – WaveGroup
Solo Tu – WaveGroup
Tango With Me – WaveGroup
To read more, visit Samba de Amigo's GC profile.
If you wish to comment on this article, click the Discussion tab in the top bar.
Ad blocker interference detected!
Wikia is a free-to-use site that makes money from advertising. We have a modified experience for viewers using ad blockers

Wikia is not accessible if you've made further modifications. Remove the custom ad blocker rule(s) and the page will load as expected.