22 July 2008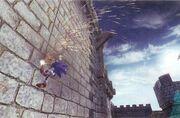 New information and images for the mysterious upcoming Wii game,
Sonic and the Black Knight
, that were inside the September issue of Nintendo Power are finally available. As you may already have heard from
Sega's press release yesterday
, the game is a quasi-sequel to the Arabian-themed Sonic game for Wii,
Sonic and the Secret Rings
. This game has the same concept as again Sonic is transported to a different time period, this time by the sorceress Merlina, who brings you to the time of King Arthur, where the fabled king has been corrupted and rules as the Black Knight. The game is even being developed by the same group,
Sonic Team
, who is also currently working on
Sonic Unleashed
. One of the main differences, apart from the use of your sword, is that Sonic is controlled with the analog stick on the Nunchuk, instead of using the tilt feature of the Wii Remote.

Sonic has the ability to help people, which will bring him closer to Knighthood, or smite them, which will take a hit to his reputation. At the end of a stage, it calculates your good deeds and your mistakes, giving you a score based on how many of each you did. You buy items from villagers, which give you bonuses and which you can trade online with friends. A "simple flick of the Wii Remote" makes Sonic do a basic slash, while more advanced combinations can produce parries and thrusts. It is currently unknown if the game will make use of Nintendo's new Wii MotionPlus to make sword use more accurate.
The skills system from Sonic and the Secret Rings is back, but the developers are making sure it doesn't slow down the game's tempo. There are playable characters in this version, but they are completely optional. Two confirmed characters are Knuckles, who can wield two swords at once, and Shadow. Older Sonic fans may appreciate that the soundtrack will be done by Jun Senoue, who is adding a Celtic vibe to familiar Sonic tunes. Also, there will be 2D and 3D levels like in Sonic Unleashed.
If you wish to comment on this article, click the Discussion tab in the top bar.
Ad blocker interference detected!
Wikia is a free-to-use site that makes money from advertising. We have a modified experience for viewers using ad blockers

Wikia is not accessible if you've made further modifications. Remove the custom ad blocker rule(s) and the page will load as expected.