24 August 2008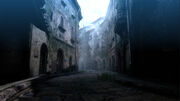 Although there have been no screenshots released for
Bayonetta
, the action game coming to the
PlayStation 3
and
Xbox 360
,
Kotaku
has previewed the game and even thought it deserved their "best looking game we've seen at Leipzig" honours.
While the initial demo stage takes place in a forgettable setting — yes, I already forgot about it — the new area was jaw-dropping. It takes place on the head of a clock tower, one that happens to be falling from the sky at maximum velocity. Bayonetta casually walks with her signature slink across the face of the clock as she fought off demonic angels. She did so with a mysterious female ally, both of whom were being circled by a massive, ornately decorated sky serpent. On top of the dozens of angels attacking, with clock towere debris falling in tandem and golden halos spilling everywhere, a massive winged mini-boss also attacked. With a body comprised of a decapitated marble statue head and serpentine arms, it wowed us with its artistic and technical achievements.
Read more of their preview at
their website
.
If you wish to comment on this article, click the Discussion tab in the top bar.
Ad blocker interference detected!
Wikia is a free-to-use site that makes money from advertising. We have a modified experience for viewers using ad blockers

Wikia is not accessible if you've made further modifications. Remove the custom ad blocker rule(s) and the page will load as expected.