21 August 2008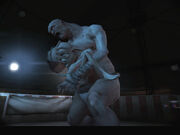 Both
Kotaku
and
IGN Wii
have previewed the upcoming lightgun shooter
The House of the Dead: Overkill
for the
Wii
. Kotaku did a preview with the help of Headstrong Games' Bradley Crooks. The opening paragraph follows:
About a third of the way in through the Carnival Of Fun stage in The House of the Dead Overkill, Bradley Crooks from Headstrong Games decimated a severed arm stuck in a cotton candy machine. It exploded in a sweet, sickly mess, adding to the heavy amount of gore we'd already seen in the Wii "light gun" shooter. It's also potentially the first game to feature a "live birth" on the Wii, so don't expect an E rating (or a German release).
IGN managed to see it, but didn't play the game themselves. Their opening paragraph follows:
There's no question about it: SEGA's upcoming House of the Dead: Overkill has Grindhouse to thank for its inspiration. The game essentially "reboots" the AM1 franchise with a prequel of sorts that takes place in the era of drive-in double-features. Though we didn't play the game at Games Convention in Germany today, it was certainly playable and we got a chance to see the direction this zombie blaster's going on the Wii.
You can read more of Kotaku's preview here, and IGN's preview here.
If you wish to comment on this article, click the Discussion tab in the top bar.
Ad blocker interference detected!
Wikia is a free-to-use site that makes money from advertising. We have a modified experience for viewers using ad blockers

Wikia is not accessible if you've made further modifications. Remove the custom ad blocker rule(s) and the page will load as expected.