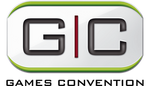 Welcome to the Sega Wiki GC - Games Convention 2008 Portal
where you can read about the news and updates from the 2008 Games Convention in Leipzig.
---
Other Games Convention Sites
About GC
The GC - Games Convention is an annual event held in Leipzig, Germany, where everyday people play games and industry professionals show some of their upcoming and newer games. It's arguably the largest European gaming event, having around 185,000 visitors last year. Sega has typically shown a lot of their E3 games at the Games Convention, most likely to let people try them again or let European media outlets who weren't able to see E3 try them for the first time. This year, the Games Convention is taking place from August 20 - 24.
GC News
Refresh to see the latest news!
14 August 2008
19 August 2008
20 August 2008
21 August 2008
22 August 2008
23 August 2008
24 August 2008
Sega's GC Games
Although Mario & Sonic and Beijing 2008 have been released in the EU already, they will be available for play at the Games Convention to celebrate the concurrent Beijing 2008 Olympics.
Ad blocker interference detected!
Wikia is a free-to-use site that makes money from advertising. We have a modified experience for viewers using ad blockers

Wikia is not accessible if you've made further modifications. Remove the custom ad blocker rule(s) and the page will load as expected.