11 October 2008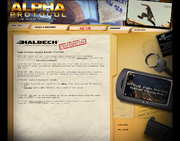 The website for
Obsidian Entertainment
's upcoming spy RPG,
Alpha Protocol
, is now live, with game information, screenshots and concept art. You can visit it at
http://www.sega.co.uk/alphaprotocol/uk/index.html
.
If you wish to comment on this article, click the Discussion tab in the top bar.
Ad blocker interference detected!
Wikia is a free-to-use site that makes money from advertising. We have a modified experience for viewers using ad blockers

Wikia is not accessible if you've made further modifications. Remove the custom ad blocker rule(s) and the page will load as expected.