Harley-Davidson & L.A. Riders
(trademarked
Harley-Davidson & L.A.Riders
) is a driving arcade game developed by
AM1
and published by Sega in 1997. The game runs on the Model 3 hardware (Step 2.0). It is, in a way, a successor to
Cool Riders
which was a motorcycle game developed by the same team that utilized the
OutRunners
engine.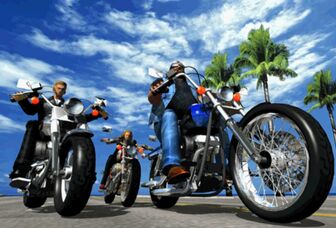 Gameplay and concept
Edit
In Harley-Davidson & L.A.Riders, the player rides one of five optional Harley-Davidson motorcycles through an open-world environment based on Los Angeles, completing a series of three, four, or five checkpoints (depending on game assignments) below the time limit. The player also has to collect as many neon-green tokens scattared across the environment as possible. These tokens resemble the Harley-Davidson logo and allow to you to earn anywhere from 1,000-100,000 bonus points. Occasionally, the player will find tokens that allow you to earn anywhere from 5-10 seconds of bonus time. 
It is said that the idea Harley-Davidson & L.A.Riders  was further refined by Sega development team Hitmaker (or AM3) in their 1999 arcade game Crazy Taxi.
Harley-Davidson models and riders
Edit
| H-D Model | L.A.Rider | Rider origin | Bike color |
| --- | --- | --- | --- |
| FLSTF Fat Boy | Rick (blonde male) | Wisconsin | Silver |
| FL Panhead 1948 | Scott (cowboy) | Texas | Yellow |
| FXDWG Dyna Wide Glide | Dave (gang member) | South Dakota | Blue |
| XL 1200S Sportster 1200 Sport | Anne | Florida | Red |
| FXRP | Suzy (policewoman) | Los Angeles (LAPD) | White/black |
Home releases and other media
Edit
A Sega Dreamcast port was in development, but it was cancelled.
An official soundtrack was released by Marvelous Entertainment on March 18, 1998.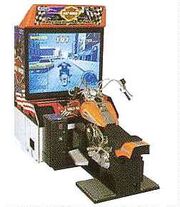 The game's score was entirely composed by AM1 sound designer Masanori Takeuchi. 
During gameplay, there are 8 total BGMs to choose from with the "Music Select" button. Some of these songs were recycled from other AM1 games composed by Takeuchi himself.
| BGM | Model | Origin of game |
| --- | --- | --- |
| Beyond the horizon | Fat Boy | N/A |
| Cowboys on the freeway | Panhead | N/A |
| Boss the roadmaster | Dyna Wide Glide | N/A |
| L.A. blue sky | Sportster | Sega Ski Super-G (1996) |
| Head for the wild world | FXRP | N/A |
| Winning ball (extra) | N/A | Dynamite Baseball (1996) |
| Shine on the top (extra) | N/A | Sega Ski Super-G (1996) |
| Jingle Bells | N/A | Various Sega games |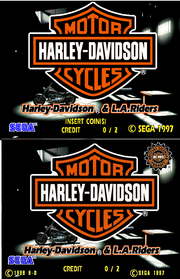 Sonic The Hedgehog is seen near the Beverly Hills gate on a stone block. Sonic and Tails are also seen on graffiti in downtown Los Angeles. A building in downtown L.A. also has a sign saying "Sonic & Baby's".
The game's ROMs have hidden voice data of character names from Cool Riders. They are "Max", "Chris", "Gloria", and "Big Boss". It is possible that these characters were going to re-appear in the game, but were in senses, ditched and redesigned into different characters during development, since Harley-Davidson & L.A.Riders was an entirely new game engine and concept.
Rick was originally to be named "Ricky", Dave was originally to be named "David", and Suzy was going to be Suzanne.
Two revisions of the game are known to exist. Version one is Revision A, released in December 1997 to Japanese arcades and GameWorks. This version is installed on machines manufactured prior to February 1998. The second version, Revision B, was released in January 1998. Revision B has a slight change for the title screen, giving proof the game is an "Official Licensed Harley-Davidson Product" with a Harley-Davidson seal. 
The game has a "real time clock test" in the test mode. During Christmas, the default BGM playing with any bike is a rendition of "Jingle Bells". In Revision B, the BGM is accessible through a code since it was released after Christmas 1997 in a sense.
There are regional differences with the Advertise music in attract mode. The Japanese version has lyrics by Masanori Takeuchi, while the Export versions have talk-box guitar effects in the music instead of lyrics.
Ad blocker interference detected!
Wikia is a free-to-use site that makes money from advertising. We have a modified experience for viewers using ad blockers

Wikia is not accessible if you've made further modifications. Remove the custom ad blocker rule(s) and the page will load as expected.