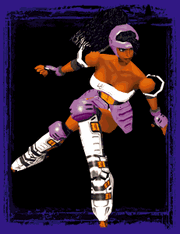 Grace is a fictional character from the video game series
Fighting Vipers
.
Statistics
Edit
Sex: Female
Birthday: 11/17
Age: 19
Weight: 58kg
Height: 175km
Hometown: Armstone City
Occupation: Fashion Model
Hobby: In-line Skating
Personality: Cool and self carried, with passion inside
Favorite Music: R&B
Liked Food: Pasta
Disliked Food: Potatoes
Fighting Vipers
Edit
Grace is an African American fashion model in the city of Armstone. Despite her job, she originally had dreams of becoming a professional ice skater during high school, until her coach, both her lover and instructor, cheated on her. She enters the Vipers Tournament to fight the pain of her past.
Fighting Vipers
Edit
Two years later, Grace received workplace harassment when the Viper Hunts began. Because of this, she dons her gear and begins to track down the cause of it.
Ad blocker interference detected!
Wikia is a free-to-use site that makes money from advertising. We have a modified experience for viewers using ad blockers

Wikia is not accessible if you've made further modifications. Remove the custom ad blocker rule(s) and the page will load as expected.