Daytona USA is an arcade game, developed by Sega AM2 and published by Sega. A limited release started in 1993, full release in 1994.
The game was ported over to the Sega Saturn in 1995, and to Windows in 1996. Because the Saturn version was very poorly received,in 1996, Sega launched the game "Daytona USA: Championship Circuit Edition."
A Sega 32X port was in development, but the idea was quickly scrapped. Daytona USA was ported to PlayStation Network on October 25th, 2011, and to Xbox Live Arcade a day later.
A remake, Daytona USA 2001, was released for the Sega Dreamcast in 2001.
Trivia
The track "777 Speedway" features Sonic the Hedgehog carved into the stone wall.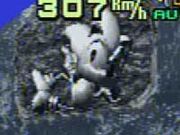 Ad blocker interference detected!
Wikia is a free-to-use site that makes money from advertising. We have a modified experience for viewers using ad blockers

Wikia is not accessible if you've made further modifications. Remove the custom ad blocker rule(s) and the page will load as expected.