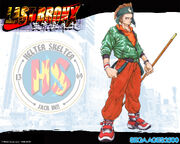 Thrashing the streets of Los Angeles, shredding the slopes in Vail, chilling out back home in Osaka. Yeah, you could say I've been there and done that. I don't ask much out of life. Just have a good time all the time. But that doesn't mean I can't get serious when I need to. Kusanami's grandfather taught me about that, about finding a center and trusting myself. About using my stick. I learned a lot at the Kusanami-dojo. And I met Lisa there. Man, is that girl hot or what? But she looks through me like I'm The Invisible Man. Can you believe it? So I quit the dojo and got together a couple of guys in Helter Skelter to tear up the streets of Tokyo and generally get it on. And when I win this tournament, I think Lisa will begin to see why she and I were meant to be.
Hiroshi "Tommy" Tomiie (富家 大?) is a character from the fighting game Last Bronx, and the leader of the boarder gang Helter Skelter in the streets of Shibuya. He wields a metal ended pole in battle.
Story
An 18 year old thrasher from Osaka with a love to board through skate or snow in any part of the world, Tommy runs the boarder gang Helter Skelter in the streets of Shibuya for their right to tear up Tokyo in peace and pay no demands from those involved in the All-Tokyo Street Wars or the delinquent gang underworld. Uninterested by Redrum's intrigues, Tommy merely joins in the Second All-Tokyo Street War for thrills and the chance to impress his crush, Lisa Kusanami.